So lately, I have only been posting things wedding related. Which, in my defense, has kind of taken over my world recently. So - once again linking up with Kristyn and Mary!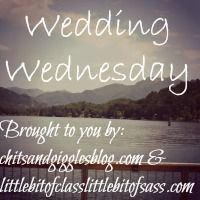 We are only 102 days out - ah!
This week Bevskies and I accomplished the following:
Gathered the guest lists for my family shower in September

My sister/MOH emailed girls in regards to a Bachelorette on the weekend that works in my schedule.

I ORDERED SHOES!!! (and they should arrive today). I had an extra 40 % off code for Piperlime and they are the right height - not too high. Hopefully they will fit when they arrive TODAY!
I scheduled my bridal portraits for the end of August - therefore I am constantly lifting weights to get those wedding arms!

We ordered our cocktail napkins - so excited we are down to the small stuff, ah!