It seems like the only time I can manage to post these days is on Wednesday - what a coincidence, that Wednesdays happen to be Wedding Wednesdays ;). Linking up with the adorable Mary and Kristyn!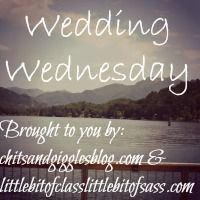 This week I have gotten a ton of stuff done wedding wise - its hard to believe we are only 109 days out, ah!
I've ordered pretty much everything for my bridesmaid gifts. I still have to get some stuff done on my end, but the materials are on their way to my house! I cannot WAIT to share, I am dying to give them to the girls!!

We ordered and received our flower girl dresses and I love them! They are JCrew but with an eBay price - my favorite! We got them in Ivory but the picture of the back only shows the " bright guava". For those interested, it is the Avery dress found here.
Our invitations came in and I am OBSESSED with them! I knew I wanted something classic with a monogram and I had a horrible time trying to find a pre-designed one I loved. I also didn't have a bunch of time to meet with someone local and we don't have a ton of options anyways. I was able to find a simple design on The American Wedding and I was able to pick out my own font, my own wording, my own paper color, everything. It was so much simpler than using my software to have it printed by a 3rd party, affordable and I LOVE THEM! I can't wait to show y'all!!

We finally got the rehearsal dinner nailed down at the restaurant Stuart and I have wanted FOREVER. It was a WEEK and took a ton of patience on my part, but we are all set. And I get to have the people included that I feel like need to be there - ya know, the people in the wedding party and those participating in the ceremony. Which wasn't always going to happen. GAH. But it is done! And I am thrilled!